Dear Sweaters
, Thanks for always being there for me. Thanks for being the most wonderful, cozy things. I promise to wear you more now that fall is approaching.
Dear Mumford & Sons
, You are rocking my world right now. Keep going. I'm listening to Below My Feet for the umpteenth time right now. Loves.
Dear Silly High School Girls
, Let's stop pretending that we're in middle school. It's not as cute as you think it is. Let's grow up a bit.
Dear Sadies Date
, I'm extremely excited for Sadies. We're literally gonna have a blast.
Dear Little Sister
, Sorry I got mad at you on the way home from school today. I love you! But, you are coming with me to get my oil changed. I don't care what you say. Peace&Blessings.
Dear London, England
, I'm sorry that we've never met in real life. I promise, I will be there sometime! I promise. I promise.
Dear Government Teacher
, Take a chill pill. You're not gonna BUST anybody's CHOPS anytime soon. You're not as tough as you try to make yourself look. Nice try, though. It's really entertaining.
Dear Once Upon a Time,
I promise, I will get caught up soon. I'll be ready to start Season 2 before you know it! Don't worry!
Dear Homework,
Calm down!!!! I'm coming!!!!
Dear Emily
, Thanks for this link-up! It's so fun!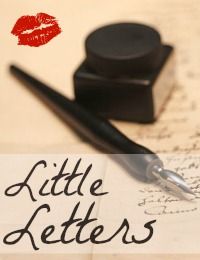 HAVE A GOOD AFTERNOON, FRIENDS!!! I loooove youuuuu!! :)